Dr. Daisy Tao is a Victoria, BC Optometrist Practicing at Saanich Optometry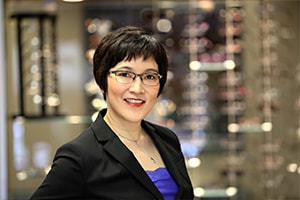 Dr. Daisy Tao has been practicing in Victoria for almost 20 years. She was born in Saskatoon and moved to Victoria when she was 5 years old. After studying biochemistry at the University of Victoria, she continued her studies in the Optometry program at the University of Waterloo. In 1998, she received her Doctor of Optometry degree on the Dean's Honour List.
She completed an internship on the diagnosis and treatment of ocular disease at the Utah Eye Foundation before returning to Victoria to practice. In 2012, she decided to join the team at Saanich Optometry.
She and her husband are the happy busy parents of two young sons.
Dr. Tao is fluent in both Cantonese and English.